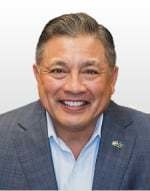 Admiral A.B. Cruz III
Independent Director
Since April 2020, Admiral Cruz has been a Senior Advisor at BarkerGilmore LLC, where he provides executive coaching, leadership development and executive search services to legal leaders, CEOs and corporate boards. Since November 2019, he has served as the President of the Board of Governors for the National Asian Pacific American Bar Association. From September 2016 to October 2018, he served as Senior Vice President & Divisional General Counsel at USAA, a Fortune 100 financial services company, where he led the legal teams that supported the Company's C-suite members and their organizations. He spearheaded the optimization of the chief legal office's operating and interaction models, and reviewed and approved new products and services to foster USAA's future growth, competitiveness, and technology transformation. From 2013-2016, Admiral Cruz was Executive Vice President, General Counsel, Corporate Secretary, Chief Compliance & Ethics Officer, and PAC chairman for Emergent BioSolutions, Inc. (NYSE: EBS). From 2008 to 2012, Admiral Cruz served as Executive Vice President, Chief Legal Officer & Corporate Secretary for Scripps Networks Interactive, Inc. (Nasdaq: SNI), and from 2004-2008 was Executive Vice President & General Counsel for The E.W. Scripps Company (Nasdaq: SSP). He was Vice President and Deputy General Counsel of BET Networks, playing a leading role in BET's $3 billion merger with Viacom (Nasdaq: VIA). Other private sector roles include serving as an attorney at Wiley Rein LLP, Roberts & Eckard, Gardner Carton & Douglas, and Leventhal Senter & Lerman.
Admiral Cruz served the United States in the US Navy for 33 years, including the following command positions: Reserve Deputy Commander, Maritime Operations at US Fleet Forces Command; Deputy Commander at US Naval Forces Command / US Fourth Fleet; Deputy Commander, Navy Region Southwest; Commanding Officer, Naval Expeditionary Combat Command; Commanding Officer, Naval Inspector General; Commanding Officer, Harbor Defense Command 207; Commanding Officer, Naval Special Warfare Unit 2; and Commanding Officer, Mobile Inshore Undersea Warfare 206. Admiral Cruz holds a JD from The Catholic University of America, an MA in Marketing from The University of Maryland, and a BS in General Engineering & Physical Sciences from U.S. Naval Academy. Admiral Cruz has served on numerous boards and previously served as the board chair for the Minority Corporate Counsel Association. He currently serves as an advisory board member for Bellatorum Resources as well as VetStoreUSA. He. is also a board director and committee chair for the Yellow Ribbon Fund, a board director and governance committee chair for the World Affairs Council of San Antonio, and a board director for the Down Syndrome Association of South Texas. He also serves as a board trustee, executive committee member and finance committee chair for Saint Mary's Hall, and as a board trustee and governance committee member for the U.S. Naval Academy Alumni Association & Foundation.
Anthony A. Kuznik
Executive Vice President, General Counsel, Secretary and Board Director
Anthony A. Kuznik has been our Executive Vice President, General Counsel and Secretary since February 2021, and Board Director since May 2022. Mr. Kuznik was most recently the Vice President and General Counsel of two strategic business units of Honeywell International Inc., a Fortune 100 company, where he served as the chief legal counsel responsible for the strategic direction and execution of global legal activities and the management of legal and contracts personnel worldwide. He was Vice President and General Counsel of Honeywell Building Solutions from 2009 to 2020, and Vice President and General Counsel of Honeywell Sensing and Control from 2005 to 2009. From 2001 to 2005, Mr. Kuznik was Executive Vice President, General Counsel and Director of Praedea Solutions, Inc., an enterprise software company with operations in the United States, Malaysia and Ukraine. From 1999 to 2001, Mr. Kuznik was a Director at the investment banking firm Goldsmith Agio Helms (later Lazard Middle Market), where he was a senior member of M&A teams responsible for originating and executing domestic and international, middle-market transactions. From 1996 to 1999, Mr. Kuznik was an Associate Director at Deutsche Bank's investment banking entity in Hong Kong, Deutsche Morgan Grenfell (Hong Kong) Ltd. From 1995 to 1996, Mr. Kuznik was the Managing Attorney at Law Audit Services in St. Paul, Minnesota, a national legal management and auditing firm. From 1990 to 1995, Mr. Kuznik was an attorney at the law firm of Dorsey & Whitney in Minneapolis. Mr. Kuznik received a Juris Doctor degree from the Columbia University School of Law in 1990, and a Bachelor of Arts (Hons) degree from the University of Chicago in 1987. Mr. Kuznik also completed an Executive Management Program at the European Institute of Business Administration (INSEAD) in 1996.
Alexandra Lebenthal
Independent Director
Alexandra Lebenthal is a Senior Advisor in the Financial Sponsors Group at Houlihan Lokey where she leads an initiative focused on female led and founded companies. Prior to joining Houlihan in August 2020, she was the CEO of Lebenthal Holdings, a diversified financial services firm that included the nation's largest woman-owned broker dealer. Coming from a storied Wall Street family, her grandparents, Louis and Sayra Lebenthal, founded Lebenthal & Co., Inc, a municipal bond specialist, in 1925. Her father, Jim Lebenthal, created a mass market for municipal bonds, and was known as the spokesman for the industry.
After starting her career at Kidder Peabody, Ms. Lebenthal joined Lebenthal in 1988 and became President and CEO in 1995 at the age of 31. She was also President of Lebenthal Funds, overseeing the firm's mutual and money market funds. After successfully diversifying the firm beyond municipal bonds, Alexandra engineered its sale in 2001 to The Advest Group, remaining at the firm until it was subsequently sold to Merrill Lynch in 2005. During that time, in addition to managing Lebenthal, she also ran marketing and municipal capital markets for the parent company. She started anew in 2007, building Lebenthal Holdings into an asset management, wealth management and capital markets boutique. Lebenthal was the number one woman-owned firm in debt and equity capital markets from 2012-2016.
A passionate supporter of women in business, Ms. Lebenthal was named one of the top 50 Women in Wealth Management by Wealth Manager Magazine, as well as Private Asset Management. She has also been named to the Crain's New York Top Women-Owned Businesses and the Crain's Fastest 50 Growing Businesses in New York.
Ms. Lebenthal has extensive public and private board experience. She currently is a board member of Graf Acquisition Corp. IV, and an advisory board member for Interprice Technologies. She is as a former board member and Treasurer of the Securities Industry Financial Markets Association (SIFMA). She is a member of C200, the leading organization for female businesswomen.
Ms. Lebenthal is the Co-founder of "The Women's Executive Circle," and "Women On Wall Street", which cultivates high-profile Jewish women under the auspices of United Jewish Appeal. She is also a spokesperson for Insightec Targeted Ultrasound, a ground-breaking procedure for Essential Tremor she underwent in 2016.
Ms. Lebenthal's first novel, "The Recessionistas," a thriller set in Manhattan during the financial crisis, was published in August 2010.
A graduate of Princeton University with an A.B. in history, Ms. Lebenthal lives in New York City with her family.
Jeanne L. Manischewitz
Independent Director
Ms. Manischewitz is an experienced fiduciary and investment professional with over 25 years in the financial services industry. She currently serves as an independent director of Healthcare Services Acquisition Corp., a SPAC. Most recently she spent 15 years at York Capital Management where she was a portfolio manager and a partner of the firm until September 2020. During that time, she also served on the firm's ESG committee and was a steering committee member of the Women's Network. Prior to her time at York Capital Management, Ms. Manischewitz spent a total of seven years as a senior credit analyst at Moore Capital Management and Halcyon Capital Management. Ms. Manischewitz started her career on Wall Street as an investment banker at Salomon Smith Barney. Ms. Manischewitz received her undergraduate degree from Princeton University.
Sabrina McKee
Executive Vice President, Strategy and Board Director
Sabrina McKee has been our Executive Vice President, Strategy since April 2021, and Board Director since May 2022. Ms. McKee was most recently Director, Head of North America Strategy at Ford Motor Company until March 2021. Ms. McKee was previously Global Head of Mobility Strategy from February 2019 to January 2020 and Director of Investor Relations at Ford from February 2017 to February 2019. Ms. McKee served as a Director of Graf Industrial Corp. from October 2018 to September 2020. Ms. McKee a capital markets professional with over 20 years of experience in all aspects of the investment process, has a unique blend of sellside, buyside and corporate experience offering a comprehensive understanding of the investment process. From April 2014 to June 2016, Ms. McKee was Managing Director, Head of Equity Capital Markets at Sterne Agee CRT LLC, where she worked with public and private companies on all aspects of the capital-raising process, including SPACs. From 2011 to 2014, Ms. McKee worked as a Director of the Corporate Access businesses at Guggenheim Securities LLC and during 2010 she worked as an Executive Director at Morgan Stanley where she connected public and private companies to the investment community. From 2007 to 2010, Ms. McKee was Vice President at Two Sigma Investments LP, where she helped build out a successful, global, Alpha Capture business, enabling quantitative investment managers to integrate fundamental factors into quantitative stock selection models. In addition, from 2000 to 2007, Ms. McKee worked for UBS Investment Bank as an Executive Director of Equity Research Sales and Equities, from 1999 to 2000 for Schroders plc as a Senior Vice President and from 1991 to 1998 for Tucker Anthony as a Senior Vice President of Institutional Research Sales, where she covered a diverse range of large institutional investors. Ms. McKee received a Bachelor of Arts degree from William Smith College in 1989.
Edwin J. Rigaud
Independent Director
Mr. Rigaud has more than 40 years of business experience across a multitude of operating and leadership roles. He served as Chairman of the Board of Directors and Chief Executive Officer of Legacy Acquisition Corp., a SPAC, since its inception in November 2017 until the closing of its business combination with PARTS iD, Inc. in November 2020. He continues to serve as a member of the board of directors of PARTS iD, Inc. In 2007, Mr. Rigaud founded EnovaPremier and commenced operations through the acquisition of the assets of T&WA, Inc. from entrepreneur Tommie Burns and his partner, the Goodyear Tire & Rubber Co. Since that time, he has served as owner and the President and Chief Executive Officer of EnovaPremier (2007-2018) and as Chairman (2019) while guiding that company to a position as one of the leading providers of automotive tire & wheel pre-assembly services in the United States. Prior to founding EnovaPremier, Mr. Rigaud served in numerous operating and management capacities at Procter & Gamble from 1965 to 2001. Mr. Rigaud's notable leadership positions at Procter & Gamble included his role as a Vice President of Food & Beverage Products and as a Vice President of Government Relations in North America. Adding to his experience as a senior manager, Mr. Rigaud developed significant expertise in product development and brand management having been the first Technical Brand Manager in the exploratory phase of Pringles, and ultimately the Product Development Group Leader during the execution of Pringles' national launch. Mr. Rigaud also led the product development efforts of Secret Deodorant & Antiperspirant improvements, including key active ingredient technology and perfume upgrades, while having direct participation with the Leo Burnett Agency in the creation of the famous advertising slogan, "strong enough for a man, but made for a woman." Mr. Rigaud's leadership in these efforts helped to facilitate a major relaunch of the Secret brand. He was ultimately named a Director in Product Development. Outside of his corporate leadership experience, Mr. Rigaud has served on the Board of the Federal Reserve Bank of Cleveland and the Board of the local affiliate of Fifth Third Bank of Cincinnati. Mr. Rigaud has also held appointments by Governor Bob Taft to the Ohio Board of Regents, and by President George W. Bush to the national Institute of Museum and Library Services. In 1997, Mr. Rigaud became the first CEO of the National Underground Railroad Freedom Center, located in Cincinnati, Ohio. This 9-year development program included raising $110 million while working closely with John Pepper, former Chairman and CEO of Procter & Gamble, who served as the national building Campaign Chairman. Mr. Rigaud is also the head of one of the first African American co-ownership groups of a Major League Baseball franchise, the Cincinnati Reds.